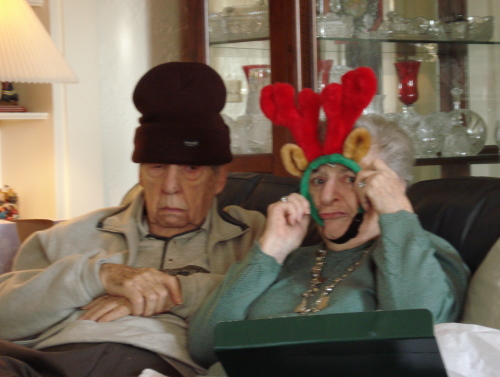 Every year, always the elegant Christmas hats...
More photos of Robert, a.k.a. "Bucky", Wiegand, his life & times, plus the early years of Wiegand's Lake Park. Bucky knew countless people, and we have countless photos of those people. I am arbitrarily cutting things off (mostly?) with photos where he was actually in the photo with those countless people.
In particular: I have VERY FEW photos of Bucky in the scene with any of our wonderful workers over the years. Or, with any of the rest of you. I also seem to have very few photos of Bucky actually doing any work. PLEASE SEND ME MORE PHOTOS of any kind: bucky-memorial@gwzz.org. We love new ones.
Also: I have used "Rob" most of the time, for clarity. All relationships mentioned (grandma, niece, uncle) are given in relation to Bucky. When there's a ".." in the name of a photo, it means I've made a guess there. When there's an "x" it means I didn't even try to guess. Corrections/additions appreciated.
4 - College, Courting, The War, Wedding